Get your detailed roof reports
in minutes...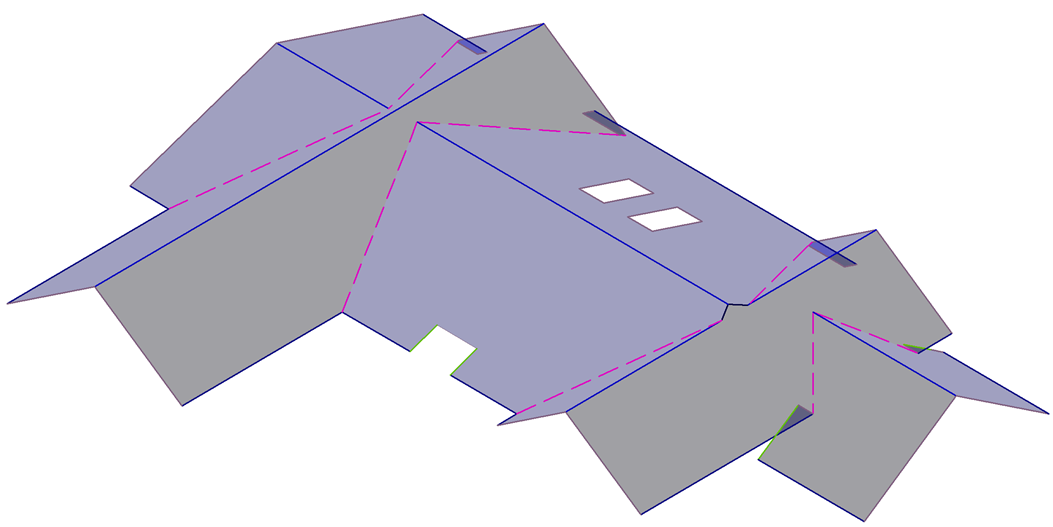 Our fully automated system can return a report to you in minutes!
Itís accurate, easy, and very fast.
Be confident your bid is on time and correct.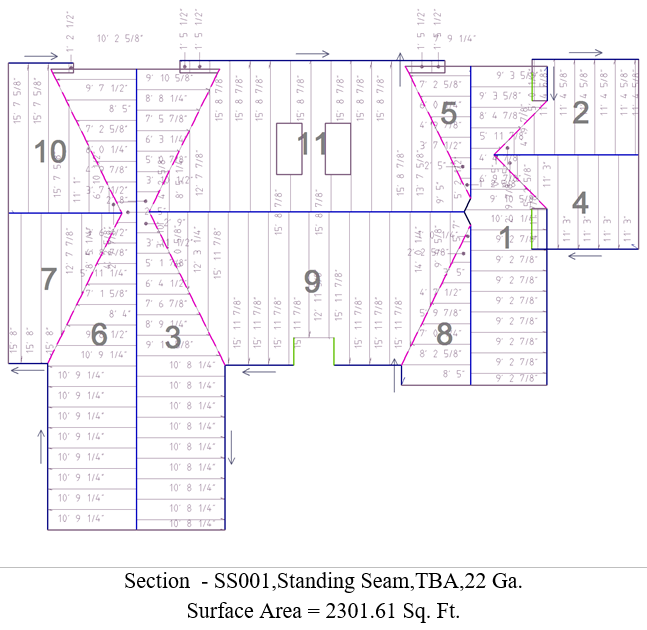 Especially useful is the Section Report for metal roof panels - a layout like this for each and every roof plane in the 3D model will save hours on the job site.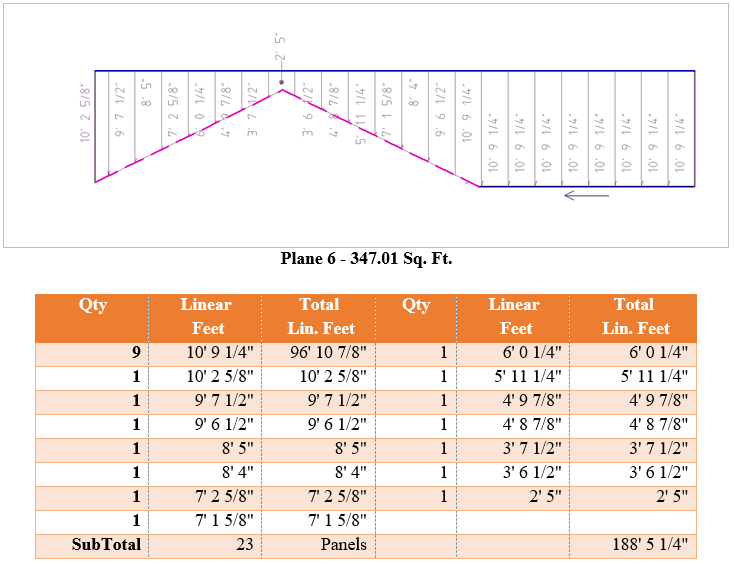 Show your installers EXACTLY where panels are to be installed - no errors and more efficient.
Even metal tile or shingle layouts can be selected, with a detailed report showing how the items are to be installed and the correct item quantities, based on how they are installed, not an 'estimate' by squares.

How it works
1. Register and select Submit New Job
Registration is free!

Select [Submit New Job]
2. Select your RXF or XML* file
Select an RXF or XML file of the 3D model. If you downloaded the file from a reporting service, you may find it in your [Downloads] folder.

*an RXF file is an AppliCad proprietary format that accurately describes the geometry of your roof. They are created by many vendors at the conclusion of the design of the roof truss framing system. Truss designers using Pryda, Mitek SA,Truss Tech, Multinail, International Truss Systems can all provide you with an RXF file on request.

There are also many XML variants of the RXF file available from property report vendors that work very well too, however we have noticed that there are a few that do not produce accurate 3D roof geometry. Since we do check the XML files for valid 3D geometry before you submit the job for payment and processing, the file may be rejected if it doesn't meet our strict accuracy standard.

3. Edit your preferences
Various settings may be tailored to suit your individual job requirements.
Such as:
Metric or Imperial units are automatically determined from the units of measure (UoM) in the file (if provided by the XML file) or from the roof model geometry.
metal sheet/panel width for 'long run' panels such as corrugated or standing seam;
or 'tile' width and depth of small form products such as metal tiles, terracota or concrete tiles or asphalt shingles.
all roof trim - estimated as stock lengths or cut to length.
These settings are retained for all future models and may be altered as required.
5. Pay and collect
Check the job settings and confirm; pay online via credit card; your job will be processed and the MS Word report documents returned in just a few minutes.

You will see the job progressing.... it takes just a few minutes.

On completion, select [List Jobs] from the menu and download your completed report to the downloads folder. Double click to open in MS Word (MS Word must be installed on your device to open, view and edit the reports' contents).

Note: the report is an editable Word document. You can add more information such as your company logo and company details, your customers' details and/or the job details; or cut and paste your roof sketch into the box provided on the Quantity Report - what ever you need to correctly convey to your customers and/or installers what you want to happen on the job.
Save the new job report to where ever you can find it on your PC. You may also use the MS Word function [Save As > PDF] so you can save the report in a form to send via email to your customer.
Try it now
If you do not have an RXF file handy, maybe download this one, save it to your desktop, and try the process out for yourself - [
RXF Test File
] then log in and submit the file for processing.
Questions?
Give our friendly team in Melbourne, Australia a call on +61 3 9878 5000 -
or email enquiries@applicad.com